Please wait
Please wait loading cabin/trip info
Best single-supplement rates for lower deck double cabin!
5% discount for booking 6+ months in advance
MV Bavaria Overview
Read all MV Bavaria reviews
Type: Liveaboard
Departs from: Khao Lak. Phuket.
No. of guests: 24
Prices from:
24,500
23,275
THB
per diver
MV Bavaria is a new Similan diving liveaboard that was designed and built in 2017 to offer the best comfort, safety and value for its diving cruises. The boat is just the right size, and has the perfect number and choice of guest cabins. Up to 24 guests can join trips from three to six days in length to the best diving sites of Thailand. The Burma/Myanmar diving safaris are 6 days and nights, when possible (after Covid).
No more than two guests stay in each air-conditioned cabin, most of which have private en-suite bathrooms, and the boat has lots of space in its communal areas, including a small air-conditioned lounge saloon. At 28 metres in length, MV Bavaria is the ideal size to offer diving cruises in Thailand & Myanmar. The boat was designed by its owner, who is an experienced scuba diving professional from Germany. Therefore, everything from the size & layout of the diving platform to facilities & cabin amenities is ideal for scuba divers who want to enjoy a Burma or Similan liveaboard diving cruise for three to six days.
Guest cabins on Bavaria are all air conditioned and each has its own temperature controller. This may not sound special, but some other Similan diving liveaboard boats have air-conditioned cabins but the temperature is centrally controlled. The boat's main deck has eight cabins, which are six 'Comfort Cabins' with twin beds, plus two 'Deluxe Cabins' at the front of the boat. All have private en-suite bathrooms & windows. The lower deck has two more 'Comfort Cabins' that have double beds and private bathrooms. The best-value cabins on Bavaria are the twin-bunk cabins on the upper deck, which use shared bathroom facilities.
When designing a boat, making the best use of space is very important. Luxury Similan liveaboard boats have large air-conditioned saloons, but these are often empty most of the time. Guests usually socialise, eat & relax outside. Bavaria has an air-conditioned lounge saloon with a large television & other electrical equipment, but this room doesn't take away space from the outdoor dining area, where briefings are held and guests spend most of their time. Bavaria's covered outdoor area is easily large enough for all its guests to sit in comfort to eat, socialise or listen to a dive briefing. Delicious food is served throughout the day, and this consists of local & western cuisine. Vegetarians won't go hungry, and special dietary needs can be catered for with advance notice. Of course, there is a large sundeck on top of Bavaria, where guests can sunbathe or gaze at the star-filled night sky. Up on the sundeck there are some more sofas as well.
Being a modern purpose-built Similan diving liveaboard, Bavaria has a large and well-planned diving platform, which uses new machinery (including a Nitrox membrane), a motorized tender dinghy, and set locations for each diver's equipment. Tanks are filled silently and the gear prepared for the next dive while the guests eat, relax or discuss the diving.
MV Bavaria Facilities, Layout & Specifications
MV Bavaria Facilities
Nitrox
En Suite Available
Air Con
Dinghy
Courses Available
Wifi
Lounge
Av Entertainment
Vegetarian Food Available
Double Beds Available
Sundeck
Shaded Sundeck
Available To Charter
Beach Transfers
Rinse Tanks
MV Bavaria Layout
Bridge
Main Deck
Lower Deck
MV BavariaSpecifications
Length:
28 Metres.
Width:
6.5 Metres.
Engines:
2 x 480 HP.
Generators:
2 (1 x 40 KW and 1x 60 KW)
Compressors:
2 Bauer compressors.
Instrumentation:
VHF, mobile phone, GPS, radar, sonar
Fresh Water:
30,000 Litres.
Fuel:
12,000 Litres.
Oxygen:
10,000 litres.
Safety:
First aid equipment, emergency stop, 4 fire extinguishers, 40 life vests.
Entertainment:
TV, DVD, stereo, library in the salon.
MV Bavaria Courses
A selection of PADI diving courses are available on Bavaria. Sometimes, it's possible to decide to take a course after checking in, but mostly it's necessary to pre-book, so that we can prepare the materials and/or staff.
The most-popular diving courses for liveaboard diving in Thailand are the PADI Advanced (AOWC) and PADI Enriched Air (Nitrox), but several other courses are normally available if we know before you arrive.
Contact us for more information about courses on MV Bavaria
MV Bavaria Itinerary
MV Bavaria has several itineraries.
Similan trips sail from piers in or near to Khao Lak.
South Andaman trips sails from Phuket. Please click on the link below for detailed itineraries
3D/3N trips depart in the evening and return by transfer boat around 5pm on the final day.
4D/3N trips depart by transfer boat at 8:00am, and return on the main boat mid-late afternoon on the final day.
6D/6N trips in Thailand depart in the evening and return mid-late afternoon on the final day.

Myanmar/Burma diving trips leave from Ranong in the morning, and return late afternoon on the final day.
The itineraries below are the most-common for each trip, but these can sometimes be changed for a number of reasons. Small changes are made due to weather & sea conditions, special marine life sightings, overcrowded dive sites, local-authorities' instructions, and the needs & requests of the paying guests. The safety & comfort of all guests is most important at all times.
Click on an itinerary below for detailed information
MV Bavaria Transfer Details
To complete a little paperwork and fit any rental equipment, it's necessary to 'check in' at the dive centre in Khao Lak before departure. This does not apply for South Andaman trips, as the check-in can be performed on board.
For Similan trips, transfers are available from around Khao Lak or we can help you with a taxi from Phuket hotels and the airport. Please let us know your plans before the trip so that we can help you.
But for South Andaman trips, the transfers are only from Phuket.
Guests need to 'check in' at the PADI dive centre in Khao Lak before departure.
The check in time depends on which trip you plan to join. It's necessary to check in so that any equipment can be fitted, a few forms need signing, and national park fees can be paid.
Divers joining 3D/3N or 6D/6N (Similan) trips in Thailand should arrive at the dive centre in Khao Lak before 4.30pm on departure day.
Divers joining 4D/3N trips need to 'check in' before 6.00pm the day before departure because they are collected in the morning by the transfer team and taken directly to the boat.
Divers joining trips into Myanmar/Burma should arrive the day before departure for check in, then before 9.00am on departure day.
In addition, the preparation for Burma trips includes passport scans at least 6 weeks before the trip.
MV Bavaria Scheduled Transfers

3D / 3N Trips

15:00
Pick up from Khao Lak :

Free

20:00
Departure ( Tab Lamu Pier, Khao Lak )
17:00
Return ( Tab Lamu Pier, Khao Lak )
17:30
Drop off to Khao Lak :

Free
MV Bavaria Scheduled Transfers

4D / 3N Trips

07:30
Pick up from Khao Lak :

Free

08:00
Departure ( Tab Lamu Pier, Khao Lak )
16:45
Return ( Tab Lamu Pier, Khao Lak )
17:00
Drop off to Khao Lak :

Free
MV Bavaria Scheduled Transfers

6D / 6N Trips

15:00
Pick up from Khao Lak :

Free

20:00
Departure ( Tab Lamu Pier, Khao Lak )
17:00
Return ( Tab Lamu Pier, Khao Lak )
17:30
Drop off to Khao Lak :

Free
MV Bavaria Scheduled Transfers

6D / 6N Trips

15:00
Pick up from Khao Lak :

Free

20:00
Departure ( Tab Lamu Pier, Khao Lak )
17:00
Return ( Tab Lamu Pier, Khao Lak )
17:30
Drop off to Khao Lak :

Free
---
For customers who would like a private taxi please see below for details.
(Click below for a rough guide to the rates you can expect to pay 'per vehicle,' not 'per person'.)
MV Bavaria Schedule & Prices
Diver Prices Overview 2023 / 2024
Destinations
Duration
Standard Twin
Comfort Twin
Comfort Double
Deluxe Double
Similan Islands

( 10 dives)

3D / 3N
Standard Twin

24,500

THB
Comfort Twin

26,900

THB
Comfort Double

25,900

THB
Deluxe Double

29,500

THB
Koh Bon, Koh Tachai, Surin Islands, Richelieu Rock

( 13 dives)

4D / 3N
Standard Twin

32,500

THB
Comfort Twin

35,500

THB
Comfort Double

34,900

THB
Deluxe Double

38,500

THB
Koh Haa, Hin Daeng, Hin Muang, Koh Phi Phi, Shark Point

( 14 dives)

4D / 4N
Standard Twin

33,000

THB
Comfort Twin

37,000

THB
Comfort Double

35,500

THB
Deluxe Double

39,900

THB
Similan Islands, Koh Bon, Koh Tachai, Surin Islands, Richelieu Rock

( 22 dives)

6D / 6N
Standard Twin

46,500

THB
Comfort Twin

50,900

THB
Comfort Double

48,900

THB
Deluxe Double

55,500

THB
Similan Islands, Koh Bon, Koh Tachai, Surin Islands, Richelieu Rock, Koh Haa, Hin Daeng, Hin Muang, Koh Phi Phi, Shark Point

( 36 dives)

10D / 10N
Standard Twin

81,900

THB
Comfort Twin

89,900

THB
Comfort Double

87,500

THB
Deluxe Double

99,900

THB
MV Bavaria Special Offers Coming Up

5% Early Bird

We have a lot of specials available for this boat. Please see the boat schedule for more details
Do you have a large group and want to charter the whole boat?
click below to find out more
Included In The Price
---
Transfers to and from local hotels
Meals
Snacks
Tea / coffee
Drinking water
VAT
Weights & weightbelts
Standard tanks
Dive master services
Towels
Soap & Shampoo
Luggage storage
Not Included In The Price
---
Transfers to & from the airport
Dive equipment
National park fees
Dive computer
Soft drinks
Alcoholic drinks
Dive insurance
Enviroment tax
Night diving torch
Larger tanks
Nitrox
Mask and Snorkel
Open-heel fins
Full-foot fins
Tips / Gratuities
View more available months
7 Reasons to Book with us:
Best-price guarantee, AND get FREE gifts.
We don't ask for any payment or your

card details

until you are ready to

confirm

your booking.
For safety reasons, it's impossible to

complete

a

booking instantly online

, as some other websites claim to offer.

We always check first

as each boat has a different criteria regarding diver details &

experience

.
We offer each boat's booking & payment policy (below). Some other websites have standardised terms, asking for full payment but many boats' payment terms are a 20-30% deposit, and the balance paid on arrival.
Our Thailand-based staff are experts about logistics, the

dive sites

& all the

boats

. Take a look at the reviews on

our site

&

tripadvisor

.
Our team are always online to answer your questions. We always respond the same day , usually within a

few minutes



Customer service is everything!

For example, if a trip is cancelled, we will ensure you can choose between an

alternative

similar trip or a

full & unconditional refund

.
MV Bavaria: Booking Procedure / Terms & Conditions:
Guests wanting to book a trip on MV Bavaria can do so very easily. We ask for a 30% deposit to confirm, and the balance is due one month before departure. These payments are normally paid through PayPal, using any credit or debit card. You don't need a PayPal account. We are also happy to accept direct payments into a US, Euro, UK, AUD, NZD or Thai bank account.
Extras, such as national park fees, equipment rental and alcohol, ice-cream & crew tips, are paid in cash on board or sometimes at the dive centre.
Genuine MV Bavaria Reviews
Read real reviews from people who have dived with MV Bavaria
Nadéne
Divers Nationality: American
Dive date: 11 February 2023
10

/

10
My husband & I went diving for 4 days/3 nights. It was an amazing experience both the dive, the boat, the staff & just the overall way the trip & daily schedule was organized. I had never been on a liveaboard & you feel completely spoiled by how much
nicer the experience is vs taking a day boat out diving. Also we saw beautiful coral, sharks, a turtle, an octopus, barracuda, seahorse & more schooling fish then I've ever seen before.
...read more
Tanja
Divers Nationality: German
Dive date: 04 January 2023
10

/

10
We can recommend the trips with MV Bavaria. The boat infrastructure is really good for diving. The crew is fantastic and the food was always delicious (vegetarian or specific food options available)
Jon Buchanan
Divers Nationality: British
Dive date: 28 December 2022
9

/

10
Friendly staff Nothing too much trouble At any time Super safe diving Good plentiful food A German speaking boat but Almost everyone spoke good English And everyone one was very inclusive
Thomas
Divers Nationality: German
Dive date: 10 November 2021
9

/

10
I had a fantastic stay on board the MV Bavaria. 6 days/6 nights. Similan to Richelieu Rock. Super crew, very helpful, perfect procedures - no hectic. Boat very well equipped. Food excellent. The only disadvantage - for me - was my cabin. Directly be
hind the engine room. I would spend more money next time. Because this tour is definitely worth it. Big thanks to Jamie, he saved my holiday :-)
...read more
Thomas
Divers Nationality: German
Dive date: 20 October 2021
9

/

10
I contacted Jamie so that he could find me the best boat for a trip the Similans and/or Richelieu rock, on quite short notice, and he delivered. Showed me all the actually available options – important because not all boats that offered trips were
actually going due to low occupancy, and since I had special requests. Saved me a lot of time doing the inquiries on my own, otherwise. The boat I picked (MV Bavaria) was also a good choice. Had a fun staff, with an amazing underwater photographer, and I was able to get my Advanced PADI and a Nitrox certification alongside. Everything went well beyond my expectations. I don't give this a 10-star rating because that's reserved to once-in-a-lifetime experiences for me, but there was really nothing wrong on this trip!
...read more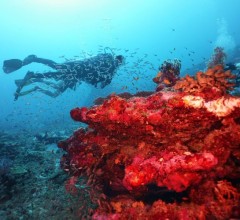 Mark Welch
Divers Nationality: British
Dive date: 10 February 2021
10

/

10
Trip 10-14 Feb 2021 ?‍♂️ to all my diving friends and buddies and all other divers I would highly recommend you take advantage of the current unique circumstances (non or low overseas mass tourist arrivals) and to take a liveaboard diving tr
ip to the Similan and Surin Islands (Khao Lak, Andaman Sea) ? Awesome diving, sea and marine conditions are pristine and near perfect with masses of fish, marine life and corals... the highlight was spotting a black tip reef shark. Clear waters Vis 30m+ ⛴ First Class Boat the MV Bavaria is the best liveaboard, top quantity, new modern design purpose built, spacious, comfortable, gourmet food and beverages and top services provided by the very attentive boat crew and dive instructors, nothing was too much trouble at any time. ? I met wonderful friendly people and new friends we were all relaxed and had a great time together on the boat between and during dives. ? Even better is the value for money, current liveaboard trip prices are greatly reduced from normal times and you can get a great deal now. ⭐️ Overall I would this rate this trip as outstanding 11/10
...read more
Jacob
Divers Nationality: Russian
Dive date: 10 February 2021
8

/

10
Excellent liveaboard, run very professionally, it has everything a diver needs on board. Diving organization is great. Food is plentiful and quite tasty. Almost everything is perfect. But there is one problem. Some of the dive guides (I dived with tw
o) are not the best ones. Actually, they were worse than most guides I ever dived with. I can't write all the details here since review length limit is too short. The detailed review is here: https://www.tripadvisor.com/ShowUserReviews-g297914-d8861447-r787179116-Loma_Diving_Adventure-Khao_Lak_Phang_Nga_Province.html. Short version is this: Bavaria guides I dived with are very passionate about small creatures like nudi branches and slugs, and think everyone else is also interested in them. Sometimes I had to swim around and wait for the guide to get a good look at some small creature which you literally can't see without a microscope. I think most divers, me included, are more interested in larger sea creatures. My trip was still great, but it's also because other, regular divers in my group showed me things a guide actually should have showed.
...read more
Massy
Divers Nationality: Japanese
Dive date: 30 December 2020
10

/

10
I had a great time on this live a boat! Beautiful dive point, Kind staff, Tasty food, Everything is satisfied. Agent is kind and helpful. I would like to join in near future.Thank you!!
Patrick
Divers Nationality: American
Dive date: 19 October 2019
7

/

10
Had a great dive trip on the Bavaria. From setting the trip up with Jamie to the dive boat and the dive crew and of course the diving itself. Jamie was very helpful in setting things up and very quick to respond anytime we had questions. The dive boa
t was modern and accommodations on board were comfortable and clean. The crew was great and very helpful. Our divemaster/guide Marco was very accommodating and showed us lots of neat things underwater. The food was delicious and kept us energized. The diving was excellent. Richelieu rock was absolutely an awesome dive site and lived up to its reputation. All in all I can recommend Jamie and his dive company as well as the MV Bavaria and diving in the Similans
...read more