Please wait
Please wait loading cabin/trip info
MV Manta Queen 7 Overview
Read all MV Manta Queen 7 reviews
Type: Liveaboard
Departs from: Khao Lak.
No. of guests: 22
Prices from:
25,000
THB
per diver
Manta Queen 7 is a 27m liveaboard diving boat which is well equipped to take up to 22 lucky guests to all of Thailand's best diving sites on the west coast. The boat sails for 4-day & nights, giving you up to 15-dives. There is free Wi-Fi when in range.
The boat has 10 air-conditioned cabins. There is a 4-bunk shared cabin,and the other cabins are twins and doubles. Only the 4 bunk cabin & one of the twin/double cabins uses shared bathroom facilities. The other eight cabins all have private en suite bathrooms. The boat has several communal areas for guests to hang out and socialise. These include a large air-conditioned lounge saloon, an outdoor dining area, and a large sundeck up top. It's very easy for small and medium groups to sit together and chat, enjoy a few drinks or a game. It's equally easy for solo guests or couples to find somewhere quiet where to read a book or to just look at the view during the day or night.
Departing from Khao Lak in the evening, Manta Queen 7 liveaboard visits the best dive sites in Thailand. However, the journey for most begins a few hours earlier, when they are picked up free of charge from a range of locations in Khao Lak and Phuket. All in all, guests get to discover some of Thailand's best dive sites up to 15 times during the trip.
A light evening meal is served on departure day, and the diving begins the following morning. Dive groups of up to 5 guests per Divemaster in which divers are put into groups that suit their level, experience and needs. Delicious food is served throughout the trip, and fruits, snacks, tea, sodas, coffee & drinking water are always available for free. Guesst who want to drink beer or other alcoholic drinks on board are welcome to bring their own, and there's usually a 'beer run' just before departure.
All the cabins are clean, and guests can enjoy air-conditioned comfort throughout the cruise. However, most guests aboard Manta Queen 7 tend to spend their non-diving time with each other, either socializing on one of the several decks or during excursions to the beaches of uninhabited tropical islands. Safety is most important on any diving safari, but the dive team and crew aboard Manta Queen 7 also try their best to make the cruises as much fun as possible. It's all very relaxed and enjoyable for everyone on board. After four days & nights days together, it's almost guaranteed that long-term relationships begin, and this includes between guests and with our team of dive staff.
Onboard PADI courses are very common for Manta Queen 7 diving guests, mainly due to the competitive rates and great scuba diving conditions that are experienced.
Please note that some websites try to mislead you by advertising these trips as 6D/5N, 5D/5N or 5D/4N which is incorrect. The boat departs in the evening, and you don't dive until the following morning. It returns four days later in the afternoon. For 2023-2024 the boat offers 4D/4N 15-dive cruises.
MV Manta Queen 7 Facilities, Layout & Specifications
MV Manta Queen 7 Facilities
Nitrox
En Suite Available
Air Con
Dinghy
Courses Available
Free Pickup
Suitable For Children
Wifi
Lounge
Av Entertainment
Vegetarian Food Available
Sundeck
Shaded Sundeck
Available To Charter
Beach Transfers
Rinse Tanks
MV Manta Queen 7 Layout
1:
Double Bed Ensuite Cabin.
2:
Twin Bed Ensuite Cabin.
3:
Twin Bunk Non Ensuite Cabin.
4:
4 Bed Shared Non Ensuite Cabin.
5:
Staff Cabin.
6:
Crew Cabin.
MV Manta Queen 7 Specifications
Length.
27 metres.
Width.
5 metres.
Hull.
Wooden.
Engines.
2 x Hino 350 HP 10 Cylinder.
Generators.
1 x 40 KW 1x 50 KW.
Speed.
8-9 knots.
Navigation.
GPS Sat. Navigation, Sonar, Compass.
Safety.
VHF Radio, Emergency Oxygen Unit, Life-raft, Life-jackets/rings, First Aid Kit, Satelite Phones.
MV Manta Queen 7 Courses
Taking part in a PADI course while enjoying a diving safari is becoming extremely popular. Manta Queen 7 guests are able to join a range of PADI courses. The PADI Instructor will tutor and coach each guest through the theory and skills of each course, but the focus is on enjoyable diving rather than serious study. The PADI Advanced Open Water Diver course is the most popular choice, and the more-challenging dive sites which Manta Queen 7 visits on days three and four are ideal for this. In addition, EFR, Nitrox Enriched Air is a popular onboard PADI course.
Courses
Courses
Prices

1,500

THB

1,500

THB

Including: Manual, Certification, Computer & fills

8,000

THB

Including: Manual & Certification

8,000

THB

Including: Manual & Certification

8,000

THB

Digital Underwater Photographer

Including: Manual & Certification

8,000

THB

Including: Manual, Certification, Computer & fills

8,000

THB

Including: Manual & Certification

8,000

THB

Including: Manual & Certification

8,000

THB

Digital Underwater Photographer

Including: Manual & Certification

8,000

THB

Including: Manual & Certification

9,000

THB

Including: Manual & Certification

9,000

THB
MV Manta Queen 7 Itinerary
Manta Queen 7 departs from Khao Lak's Tab Lamu pier in the evening, and there are up to 15 dives per trip. The first dive is always at an easy dive site in the central Similan Islands, then the boat sails north throughout the cruise.
Some websites are still showing the trips to be 6D/5N, 5D/4N or 5D/5N. These websites are out of dating or misleading.
Click below for an accurate and detailed itineray for Manta Queen 7.
The itineraries below are the most-common for each trip, but these can sometimes be changed for a number of reasons. Small changes are made due to weather & sea conditions, special marine life sightings, overcrowded dive sites, local-authorities' instructions, and the needs & requests of the paying guests. The safety & comfort of all guests is most important at all times.
Click on an itinerary below for detailed information
MV Manta Queen 7 Transfer Details
MQ7 guests can choose from the following three options for the day of departure.
Free pick ups available from around Khao Lak mid-afternoon.
Guests from Phuket can join scheduled pick ups from lunchtime to 3.30pm.
Guests can arrive at the dive centre in central Khao Lak after 4pm.
On the return day, MQ7 normally docks mid afternoon, and after the check-out process is complete, there are shared transfers to Khao Lak and Phuket. The departure of these transfers is usually 5.00-5.30pm. Like on departure day, guests can travel for free in shared vans.
MV Manta Queen 7 Scheduled Transfers

4D / 4N Trips

15:00
Pick up from Phuket :

Free

16:00
Pick up from Khao Lak :

Free

20:00
Departure ( Tab Lamu Pier, Khao Lak )
16:00
Return ( Tab Lamu Pier, Khao Lak )
16:00
Drop off to Khao Lak :

Free

17:00
Drop off to Phuket :

Free
---
For customers who would like a private taxi please see below for details.
(Click below for a rough guide to the rates you can expect to pay 'per vehicle,' not 'per person'.)
MV Manta Queen 7 Schedule & Prices
Do you have a large group and want to charter the whole boat?
click below to find out more
Included In The Price
---
Transfers to & from the airport
Transfers to and from local hotels
Meals
Snacks
Tea / coffee
Drinking water
Soft drinks
VAT
Weights & weightbelts
Standard tanks
Dive master services
Mask and Snorkel
Full-foot fins
Towels
Soap & Shampoo
Luggage storage
Not Included In The Price
---
Dive equipment
National park fees
Dive computer
Alcoholic drinks
Dive insurance
Night diving torch
Larger tanks
Nitrox
Tips / Gratuities
View more available months
7 Reasons to Book with us:
Best-price guarantee, AND get FREE gifts.
We don't ask for any payment or your

card details

until you are ready to

confirm

your booking.
For safety reasons, it's impossible to

complete

a

booking instantly online

, as some other websites claim to offer.

We always check first

as each boat has a different criteria regarding diver details &

experience

.
We offer each boat's booking & payment policy (below). Some other websites have standardised terms, asking for full payment but many boats' payment terms are a 20-30% deposit, and the balance paid on arrival.
Our Thailand-based staff are experts about logistics, the

dive sites

& all the

boats

. Take a look at the reviews on

our site

&

tripadvisor

.
Our team are always online to answer your questions. We always respond the same day , usually within a

few minutes



Customer service is everything!

For example, if a trip is cancelled, we will ensure you can choose between an

alternative

similar trip or a

full & unconditional refund

.
MV Manta Queen 7: Booking Procedure / Terms & Conditions:
The booking process for MV Manta Queen is very simple & convenient. Firstly, ask us to reserve a space in the cabin of your on the date/trip that you would like to join. We are happy to do this for free, and without any commitment from you. When you are ready to confirm your booking, we ask for 30% of the cruise price as a deposit. This payment is most-commonly made via PayPal, (Transfer)Wise or direct bank transfer in a wide choice of currencies, without fees. You don't need a Paypal account, although PayPal normally encourage you to open one. The PayPal invoice can be sent to any email address and payment can be made by anyone.
The 70% balance and national park fees are due 60 days before your trip's departure date. Park fees any equipment rental and/or courses can be paid when you arrive.
Cancellation policy:
Cancellation fees depend on the time and reason for cancelling. Please contact us for details. The management of MV Manta Queen are both considerate & flexible whenever possible regarding customer cancellations. Covid-19 has also caused everyone to be more flexible.
The official cancellation policy is as follows:
60+ days before departure = refund of money paid, minus any bank fees incurred doing so.
30-59 days before departure = refund of 70% trip balance, and the 30% deposit is forfeit to Manta Queen, but in some cases we are able to refund this to you. If the national park ticket has not been purchased yet, we can also refund the fee.
1-29 days before departure = loss of all monies but in some cases cancellations made 7-29 days before departure can result in a partial refund. But 30% deposit can be used as credit for any other trip booked through us within 1 calendar year.
Most travel insurance policies can protect you from unforeseen cancellation penalties.
Genuine MV Manta Queen 7 Reviews
Read real reviews from people who have dived with MV Manta Queen 7
Michelle
Divers Nationality: American
Dive date: 07 April 2023
9

/

10
Just got back from a great dive trip with MQ7. The boat crew and diving guides were amazing and very friendly. I was in a group with Brendan and he was able to find all the cool big and little things on the dives some were firsts for me like a leopar
d shark and Harlequin shrimps. I decided to get my nitrox certification during the trip and it was totally worth it for longer bottom times and feeling better after multiple dives. I would highly recommend MQ7 for a great value for the money.
...read more
Ivan
Divers Nationality: Croatian
Dive date: 24 March 2023
10

/

10
Experienced crew, wonderful dive sites and excellent food. Jamie's support was extraordinary as I had to suddenly change my dates. Thank you!
steve
Divers Nationality: British
Dive date: 03 February 2023
9

/

10
Really enjoyable trip. Great bunch of fellow divers and well looked after by leader and instructors
Laina Tebbutt
Divers Nationality: British
Dive date: 06 January 2023
10

/

10
What a fab trip. Everything from check in to transfer to boat to diving all faultless very smooth transition. Highly recommend, ALL staff just simply incredible very helpful, friendly, knowledgeable and supportive. Mark, Trisha and Harry just great f
un. Just a great experience. Dive sights were explained well and to see such beauty below the water is something else. Good food and plenty of choice. I will defo be booking another trip. See you soon and thank you for an incredible experience with my daughter.
...read more
Julia
Divers Nationality: Austrian
Dive date: 24 March 2022
9

/

10
We had a very good time aboard Manta Queen 7. Jamie was extremely helpful all the way and made sure that everything works out. The boat was as expected, the crew took very good care of us and the food was amazing. We were a bit unlucky with the inst
ructor who was assigned to us as she did not seem to care much about showing us stuff or about problems we had with the equipment, so we took care of asking other members of the diving staff and our problems were addressed immediately. Aside from her the trip was truly amazing and we will definitely come again. ???
...read more
Noa
Divers Nationality: Dutch
Dive date: 21 November 2018
8

/

10
This was an amazing trip! I really loved it! The crew was very kind and the Thai boatboys where so helpful with getting you equipment on, you would blink and suddenly all you equipment was on. The food was good and more than enough, snacks all day lo
ng so don't worry about the food!
...read more
marc gurney
Divers Nationality: British
Dive date: 15 November 2018
10

/

10
2 nd time and always amazing..
Henri
Divers Nationality: Finnish
Dive date: 25 April 2017
7

/

10
Good food (vegetarian option) Good staff Good boat, enough space Short dives (mainly only 30-45mins) Too many divers on board, crowded dive sites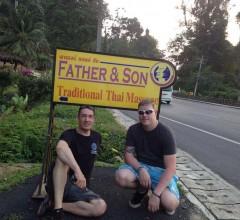 Alan & Craig O'Neill
Divers Nationality: British
Dive date: 26 March 2015
8

/

10
"From the first email to arriving back home. Top class service which was above and beyond. Jamie the agent kept me informed every step of the way he even recommended great place to eat and stay. One morning we overslept and Jamie gave us a wake up ca
ll. Thanks jamie. The boat trip is not to be missed. I will use this company in the future without doubt the best sevice I have ever experienced."
...read more